Recent & Upcoming Art Events


---
when words fail



photo: luz ruiz

770 West Grand Ave.
Oakland, CA 94612
510.835.2626

August 4 - September 23, 2017



The Artist will be at the Gallery for First Friday




Friday, September 1st, 6-8pm




And Join The Artist for a Performance work
Saturday September 16th, details to follow
Recent press for when words fail
---
11th Biennial Miniature Print Exhibition
Center for Contemporary Printmaking
across the floor lV

2" x 2" photo etchings with chine colle

Speedball Purchase Award
Juried by Freyda Spira Associate Curator
Department of Drawings and Prints
The Metropolitan Museum of Art

June 4 - August 27, 2017
Opens

Sunday, June 4

,

2-5pm



---
Pop!
The Power of Printmaking

Healdsburg Center for the Arts

Tropical Night Cane


Juried by Michelle Wilson, Luz Marina Ruiz, C.K. Itamura

May 20 - July 16, 2017

1

30 Plaza Street
Healdsburg, CA


707-431-1970



_
Opening Reception


May 20

, 2017,

5:00

- 7:00 pm

Closing Tea
July 16, 2017, 2:00 - 4:00 PM


---
30th Annual McNeese National Works on Paper Exhibition
Shearman Fine Arts Center Annex, Grand Gallery

Conjunctio II
Juried by Gia Hamilton
April
6
- May 12, 2017

4205 Ryan Street
Lake Charles, LA


337-475-5060



_

Opening Reception
April 6, 2017 6 - 8 pm



---
Adaptable: Facing the Future
Clemson National Print and Drawing Exhibition

Trace Memory

Juried by Sydney A. Cross

Former President of the Southern Graphics Council
February 2 - March 15, 2017


Lee Gallery
1500 N. Patterson Street
Clemson, SC
(864) 656-3881



---
Currency
11th Turner National Print Competition




Juried by Erin Sullivan Maynes


Hoehn Curatorial Fellow for Prints, University of San Diego




January 30 - March 4, 2017
Janet Turner Print Museum


400 West 1st Street


Chico, CA




(530) 898-4476
---

Momentary Dance




Valdosta National 2017
All-Media Juried Competition

Juried by Bryce Speed Assistant Professor of Art, University of Alabama

January 17 - February 27, 2017
Dedo Maranville Fine Arts Gallery
1500

N. Patterson Street
Valdosta, GA

_

5th Biennial Footprint International Exhibition
Center for Contemporary Printmaking

January 15 - March 5, 2017

Opening Reception
January 22, 6 - 3 PM

The Project Space | Julio Valdez Studio, LLC

176 East

10

6th Street, 4th Floor

New York, NY
---

Beneath the Surface
California Society of Printmakers


Conjunctio
9.5" x 26" x 13"
woodblock, letterpress (wooden type), monotype, wood and wire
a variable edition of 4
January 6 - January 27, 2017
---

A State of Mind
Boston Printmakers


Conjunctio


9.5" x 26" x 13"
woodblock, letterpress (wooden type), monotype, wood and wire
a variable edition of 4
November 1 - December 10, 2016
---

Pressing Matters 2016
Whiteaker Printmakers


Mary
Juried by Karen Kunc of Constellation Studios and University of Nebraska
August 2 - September 2, 2016
---

Wild / Mind


Speak Truth to Power
Juried by George Lawson of George Lawson Gallery


August 4 - August 27, 2016
Gearbox Gallery
770 West Grand Ave.
Oakland, CA
(510) 859-5208
Boundaries





Shadows
Best in Show
Curated by Paul Mahder


July 29 - September 4, 2016

Sebastopol Center of the Arts
282 South High Street
Sebastopol, CA
(707) 829-4797


Vision
An Artist's Perspective





Speak Truth To Power
Special Recognition Selection
Juried by Suzanne Gray

"Speak the Truth is a very interesting concept and one which I felt was executed thoughtfully with careful attention to detail. I appreciate the text, the paper and the additional layering of the powerful projected images." - Suzanne Gray


July 5 - July 30, 2016



Kaleid Gallery
88 South Fourth Street
San Jose, CA
(408) 947-1785
---


Innervisions
New Prints 2016 / Summer




Terese's Poem
Curated by Dan Walsh


June 16 - September 24, 2016

International Print Center New York


508 W 26th St, Apt 5A
New York, NY
(212) 989-5090

---


5th Biennial FootPrint Exhibition





Momentary Dance
curated by Elisabeth Hodermarsky
of Yale University Art Gallery

June 5 - August 28, 2016

Center for Contemporary Printmaking

Mathews Park, 299 West Ave
---
One of the earliest ideas of dance anywhere® was to change perspectives through a creative moment where none of our differences mattered… imagining that if everyone stopped for a moment in time to dance...maybe we could shift some thinking to be resourceful and open to different ideas.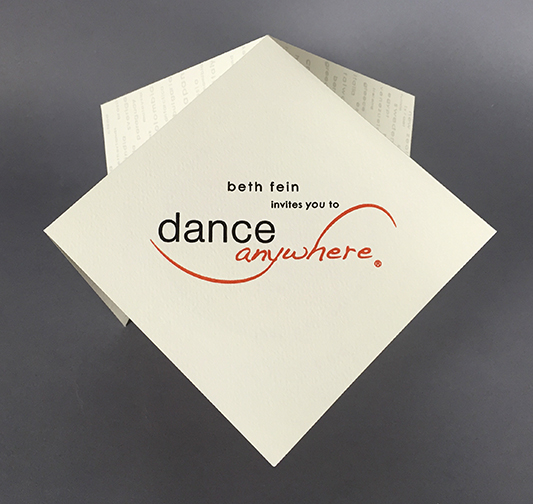 letter press invitation to dance anywhere® created by beth fein
There are no prerequisites to participate in this public art performance and it is totally free.
Since 2005, thousands of people on 7 continents, 66 countries and 714 cities from all background and abilities have stopped and danced with the world for dance anywhere®.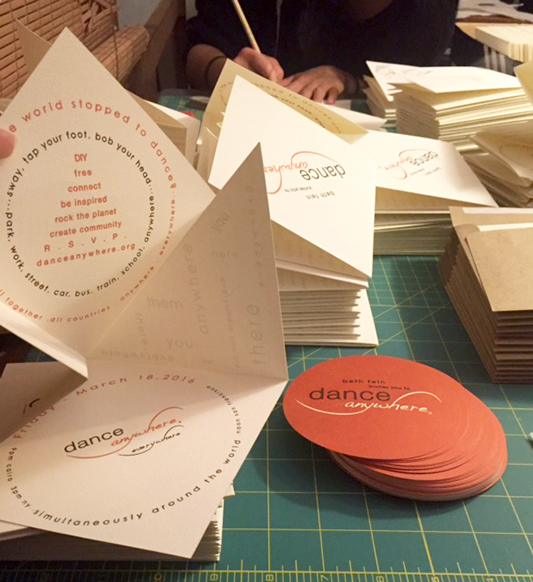 preparing invitations to send out... photo: cianna valley
Now with the public discourse so charged, discordant, obstructive, frightened and vitriolic…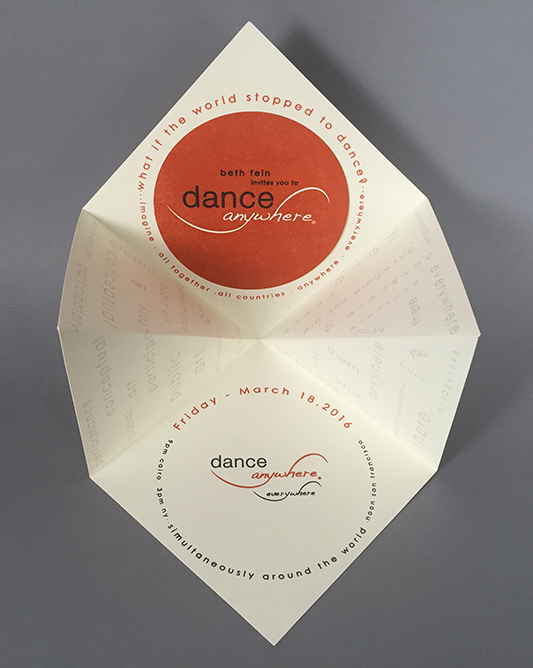 numbered edition letter press invitation to dance anywhere® 2016
not only am I asking
"what if the world stopped to dance?"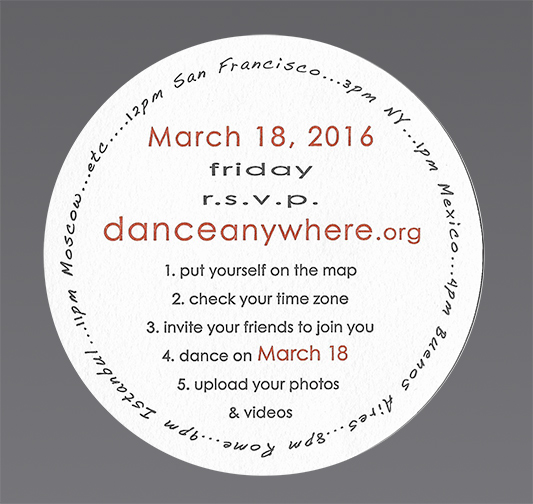 operating instructions for dance anywhere®
But also:
"Can we find any common ground?"
I have created a numbered edition letterpress invitation to dance anywhere® that I am sending to what I see as political opposites:
President Obama - Mitch McConnell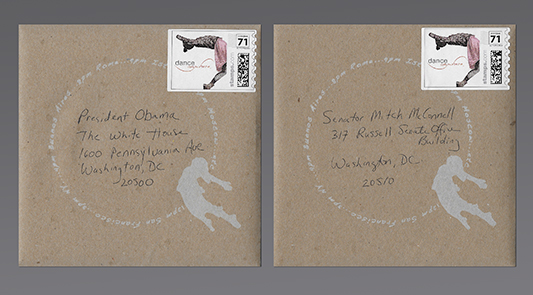 invitations to President Obama and Senator McConnell
Pope Francis – Donald Trump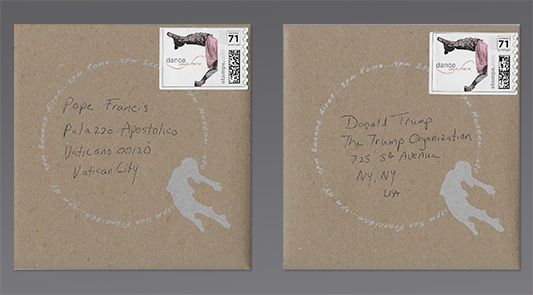 invitations to Pope Francis and Donald Trump
Michelle Obama – Fox News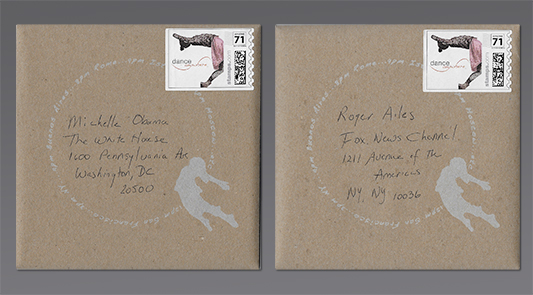 invitations to Michelle Obama and Roger Ailes head of Fox News
Please send me your suggestions of others to invite.
Can art change the public discourse?
Let's rock the world on March 18th and find out!
twitter: bethfein@danceanywhere
numbered edition letter press printed by beth fein, cianna valley and al hugon with assistance from nicole gervacio
printed at kala art institute
---
March 18, 2016
anywhere and everywhere...
noon- San Francisco / 3pm - NY & San Salvador / 8pm Paris or Rome / 9pm Cairo....
check your time on the world clock

In 2005, Beth Fein first created dance anywhere® ...what if there was a public celebration of dance anywhere and everywhere simultaneously? Why wait for a performance opportunity to come your way? No audition, application, no references, no formal dance training needed. Everyone is invited no matter age or ability.
dance anywhere® mission
Reconsider the definition of art, public space, and community
Make art accessible to more people
Find common ground we can share
Inspire creativity

---
March 2016
where I will be dancing anywhere®....
details to be determined...

---
2016 Edinboro National Printmaking
juror: Karen Kunc
February 3 - March 3, 2016
Bruce Gallery
Doucette Hall
Edinboro University
Edinboro, PA 16444
---
The Contemporary Print
Print Austin 2016
Flatbed Press Gallery
juror: Mary Heathcott
Executive Director, Blue Star Contemporary Museum

January 16 - February 20, 2016

Executive Director, Blue Star Contemporary Museum

2832 East Martin Kuther King Blvd 78702
512.477.9328
opening: Saturday 1/16
6-8pm.

---
New Members / Los Angeles Printmaking Society
September 15 - October 30, 2015
Opening: Tuesday, September 15, 2015 from 6-8PM
Closing October 29, 2015 6-8:30 / Panel discussion at 7:30 -8:30pm
Azusa Pacific University
Darling Hall Gallery
---
Hand Pulled Prints
the Current Practice in Printmaking
Juried by Ruth Lingen, Director of Pace Paper
Onsite:Brooklyn
July 27–August 26, 2015
Opening: Wednesday July 29, 2015 from 6-8PM
165 7th Street
Brooklyn, New York 11215
onsitebrooklyn@gmail.com
718.625.3646

---
Pressed: A Printmaking Exhibition
juried by Andrea Voinot
June 5th -26th, 2015
Opening Reception: Fri, June 5th, 5:30-8PM
668 Ramona Street, Palo Alto, CA 94301
---
Beth Fein's Prints
etchings and lithographs

April 18 - July 23, 2015
opening reception
Saturday April 18th
6-8pm
Merced Multicultural Arts Center
645 W. Main Street
Merced CA 95340
tel. 209.388.1090
---
dance anywhere® animation from Dance Anywhere on Vimeo
Dance Anywhere on Vimeo.